The Right Process for Your Project
Stainless steel plates are a commodity. Certainly, only specialized shops can deal with larger physical sizes and depths, but the real difference between Stainless Plate Products, Inc. and our competitors is in our processes and customer service. Continually evolving, each capability is a specialty at SPP, and that includes sales and service. We invest in new technologies and improve our processes all the time, for one reason—to give the customer the best stainless experience possible.
Like our name says, Stainless Plate Products, Inc. specializes in developing products from stainless steel plate. An American-owned and operated company, SPP USA inventories an impressive assortment of material variety and volume. When required we can offer mill certified Defense Federal Acquisition Regulations (DFARS) and NACE (MO175) material.
We develop products by employing water jet cutting, plasma cutting, machining, saw cutting and bevel cutting processes that deliver products to our customer's exacting specifications.
Our Stainless Steel Cutting Processes
It's important to understand the differences in SPP's processes. Here's an overview with links to dig deeper for more detail and clarification on each process.
---
PLASMA CUTTING
Plasma cutting is a process that is used to cut steel and other metals of different thicknesses (or sometimes other materials) using a plasma torch. In this process, an inert gas (in some units, compressed air) is blown at high speed out of a nozzle; at the same time an electrical arc is formed through that gas from the nozzle to the surface being cut, turning some of that gas to plasma.
Learn more about PLASMA CUTTING
---
MACHINE CUTTING
Machine cutting uses traditional machine shop tools to complete the job to the customer's specifications. Often faster and less expensive, machine cutting includes the ability to drill, tap and machine all parts of a stainless steel plate.
Learn more about MACHINE CUTTING
---
WATER JET CUTTING
A water jet cutter is an industrial tool capable of cutting a wide variety of materials using a very high-pressure jet of water, or a mixture of water and an abrasive substance. The term abrasivejet refers specifically to the use of a mixture of water and abrasive to cut materials like stainless steel. Water jet cutting is often used during fabrication of machine parts and is the preferred method when the materials being cut are sensitive to the high temperatures generated by other methods. Water jet cutting is used in various industries, including mining and aerospace, for cutting, shaping, and reaming.
Learn more about WATER JET CUTTING
---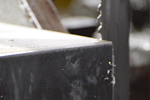 SAW CUTTING
Saw cutting is a somewhat outdated process that still has value in some applications. Not only is accuracy sacrificed but friction saw cutting does not offer the flexibility and shape options that other cutting methods do, however saw cutting still offers a sweet spot for some applications.
Learn more about SAW CUTTING
---
BEVEL CUTTING
Stainless Plate Products' beveling cuts, executed in-line as part of the product fabrication process, is achieved with SPP's plasma torch machines. Various types of bevel cuts are available for your product and, as always, SPP is focused on quality results from plan drawing to deliverable.
Learn more about BEVEL CUTTING
Process Comparison
Process

Max. Gauge

Cut
Quality
Cut
Tolerance
Delivery
Turn-around

Heat Affected Zone

Machine Cut
Any
Nitrogen Plasma
3"
Argon Plasma
6 1/2"
HD Plasma
6"
Water Jet
Any
Saw Cut
Any
Bevel Cut
Any
Depending on the finish dimensions, type, gauge and intended use, there are usually a number of ways to produce any given part or shape. Each method has its advantages and our experienced sales team is ready to help you select the cutting option with the best quality, delivery and overall value for your application.
---
Value Added Processes
SPP adds even more value by getting your parts ready to use when they arrive to you with the below value added processes that can save you time and money. Review our capabilities and contact us to learn how we can improve your next order.
Polishing
Standard Finishes
• #3 (80-100Ra)
• #4 (28-35Ra)
• #6 (10-20Ra)
• #7 (4-9, dull mirror)
Surface Protection
Heat Treating
• Stress Relieving
• Normalizing
• Annealing
Press Flattening
Traceability Reports
Need Help?
Unsure which is the best choice for your stainless plate products?
Let SPP help you choose the best method for your parts. Contact us today!