Products
Custom Shapes
When it comes to cutting stainless steel plate, options are almost limitless. Plasma, water jet, laser, shearing and saw cutting each have their own advantages and disadvantages and SPP can work with you to achieve the exact specifications for your project. We work with customers from diverse industries to deliver specified products on time.
---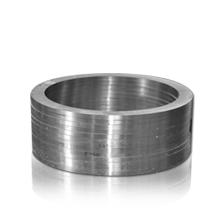 Machined All Over
When extensive finish machining operations are required, machined-all-over blanks are your best choice. These high-quality blanks are machined on all surfaces, ready to be finished by your machine shop or in-house machining facility. Machined-all-over products also offer precise flatness tolerances not available from plate. Plate gauges are generally limited to 5". If your requirement exceeds this limit, we also offer a machined-all-over forging product. All forgings are fully annealed, SA182 forgings and offer the same quality finish as our plate products.
---
Tube Sheets
All tube sheet products begin with a machine-all-over disc. Precise hole location and hole dimensional tolerances assure easy integration into your finished product. If your in-house facility has trouble working in stainless or you just need more capacity during busy times, our tube sheet products can be an convenient and economical alternative.
---
Burn and Turn
For radial products—rings and discs—we offer a "burn and turn" product. Blanks are plasma cut and then machined, leaving a clean, precise, machine-cut edge with no heat affected zone (HAZ). These products are of particular interest to finish machine shops who want to save wear and tear on expensive, precision CNC equipment. Burn and turn products are also of use to fabricators and end-users with direct use applications where no secondary machining operations are performed. The consistent dimensional tolerances of our burn and turn products minimize labor costs during fit-up and final assembly.
---
Profile Milled Products
When secondary edge details are required or when the profile must be machined for aesthetic reasons, we provide full CNC profile milling of your parts. Accurate and repeatable profile dimensions simplify the setup and fixturing of additional machining operations and also reduce tool and equipment wear. Profile milled plate products offer superior profile tolerance and are ideal for any application where a plasma cut edge is unsuitable.
---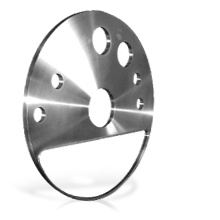 Custom Machining
In addition to machine-cut blanks, we also produce finish machined products to your exact specifications. You can save time and reduce freight and finish machining costs by using our one-source finish machined products.
---
Burn and Drill
When outside edge and cutout tolerance are less critical, we offer a burned and drilled product. Typically used for machine mounting plates, this product offers the best of both worlds. Close-tolerance plasma cutting and precision drilled or drilled and tapped holes lead to a "tolerance where it counts" approach that produces a cost-effective product with minimal lead times.
The absolute best way to determine what you need and what process is best for your product's application please contact an SPP stainless expert today!